Recorded webinar and presentation Tuesday April 20th 2021
Share OpenText Content Suite document links via email with Permission Manager for Outlook.
Send an email, know it can be read. Increase user adoption of Content Suite by encouraging best practices for document link sharing.
Verify all recipients have access to any linked items in Content Suite placed within Microsoft Outlook. By validating links in advance common IT support queries relating to access restrictions, broken links and unreachable services can be avoided.
What you'll learn:
See how Permissions Manager functionality is extended to the Microsoft Outlook client
Confidently share information with other users and remove the operational cost, time, and frustration of sending links to information recipients that cannot access.
Reduce support costs and overhead by enabling all users with the ability to see permissions on links being distributed that they do not have the authority to manage.
See how links in the email can be manually typed, copied, or by using the "Email Link" option and then quickly validated within Outlook.
Supports both explicit and effective (group-based) permissions, including nested groups.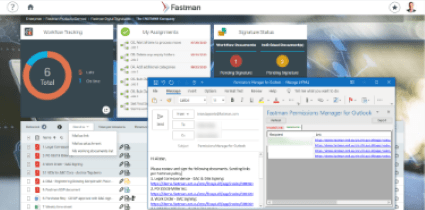 To those whom were unable to attend, please be reassured, we have attached the following links to the presentation and video for viewing at your earliest.
Presentation for viewing:
Fastman Permissions Manager for Outlook Presentation
Recorded Video for viewing:
Fastman Permissions Manager for Outlook recorded session
We look forward to continuing conversation and please do not hesitate to contact us to arrange further discussions.